Libya's detention centres accused

EU should withhold financial assistance until abuses stop, says Human Rights Watch after hearing detainees' claims of beatings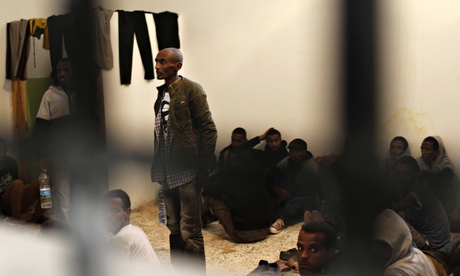 Migrants at a detention centre in Zawiya, Libya. HRW says up to 6,000 migrants and refugees are detained in severely overcrowded conditions with dire sanitation at nine government-run centres. Photograph: Ahmed Jadallah/Reuters
Migrants and refugees held in government-run detention centres in Libya are being tortured and abused, according to Human Rights Watch which has taken testimonies of whippings, electric shocks, beatings, strip-searches and people being hung upside down from trees.
Up to 6,000 people are detained in severely overcrowded conditions with dire sanitation in Libya, according to the preliminary findings of a HRW's investigation conducted in April. Most have been intercepted by Libya's coastguard as they attempt to cross the Mediterranean in order to reach Europe or have been picked up by the authorities after entering the country illegally.
The figure is a tiny fraction of the three million undocumented migrants and refugees estimated by Tripoli to be in the country. Between 500,000 to 800,000 – mostly from Somalia, Sudan and Eritrea – are believed to be waiting to embark on perilous sea passages to Europe.
Based on interviews with 138 detainees in nine detention centres, HRW said the Libyan government was in breach of its international obligations. The EU and Italy should withhold financial assistance, expected to be about €12m (£9.6m) over the next four years, until the abuses stopped, it added. The money goes to NGOs and the rehabilitation of some centres.
"Detainees have described to us how male guards strip-searched women and girls, and brutally attacked men and boys," Gerry Simpson of HRW said. "The political situation in Libya may be tough, but the government has no excuse for torture and other deplorable violence by guards in these detention centres."
Those interviewed said guards had beaten them with iron rods, sticks and rifle butts; whipped them with cables, hose pipes and rubber tubes; burned them with cigarettes; kicked and punched them; given them electric shocks with Tasers; and threatened to shoot them. In one centre, five detainees said they had been hung upside down from trees and whipped.
HRW said the centres – operated by Libya's interior ministry – were severely overcrowded with inadequate sanitary provision. Interviewees said they were denied proper medical care.
A 27-year-old Somali man said: "[The guards] whipped me with metal wire and beat and punched me all over my body. I also saw them hang four or five people upside-down from a tree ... and then beat and whipped their feet and stomach."
A 21-year-old woman form Eritrea said when she had arrived, guards had put 23 women in a room, "told us to take off our clothes and then put their fingers inside our vaginas".
According to Simpson, "in centre after centre, detainees lined up to talk about the daily fear in which they live, wondering when the next round of beating or whipping will come. The authorities have turned a blind eye to these terrible abuses."
The Libyan government does not distinguish between economic migrants and those persecution and conflict when detaining people, HRW said.
The Libyan government does not distinguish between economic migrants and those persecution and conflict when detaining people, HRW said.
The Italian prime minister, Matteo Renzi, is expected to use a summit in Brussels this week to demand more EU help in tackling the spiralling numbers of people attempting to reach Europe from north Africa and the Middle East.
According to the Italian authorities, at least 50,000 men, women and children have been rescued while attempting to reach Italy so far this year, already exceeding the total figure for 2013. The total for this year is expected to top the 2011 record of 60,000.
The Italians want the search and rescue operation, known as Mare Nostrum, they launched last autumn at a cost of €9m a month to be taken over Frontex, the EU border control agency based in Poland. Italy has pledged to force the migrant issue to the top of the EU's agenda when it takes over the rotating presidency next month.
Harriet Sherwood
The Guardian, 22 June 2014