Call for applications "Migration relays" - Grand Tunis, Sousse, Sfax and Medenine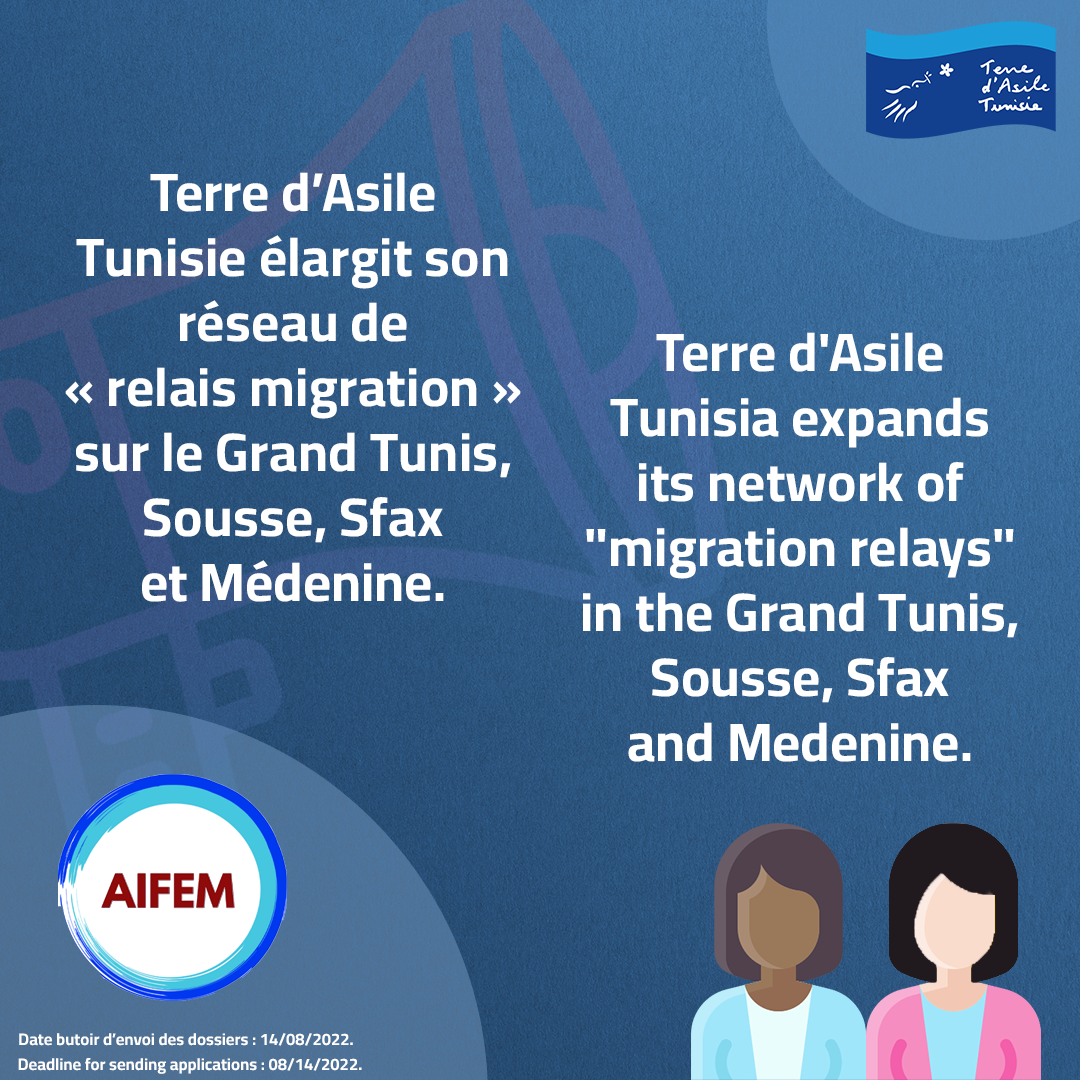 Call for applications "Migration relays" - Grand Tunis, Sousse, Sfax and Medenine

As part of the project "Supporting Empowerment and Inclusion of Migrant Women" (AIFEM) implemented by Terre d'Asile Tunisie in partnership with the associations Beity and CEFA, we are launching a call for applications for "migration relays" in Grand Tunis, Sousse, Sfax and Medenine.

What is a "migration relay"?
A migrant, well integrated in his/her community, who wants to promote compliance with migrant rights and contribute to a better socio-economic integration of migrant communities in Tunisia. He/she acts as a relay between his/her community and Terre d'Asile Tunisie, on a volunteer basis.

The tasks of a "migration relay":
Raising awareness and informing their communities on migrant rights
Sharing information based on community needs
Backing up guidance and support of migrants in need of legal and social assistance and/or support for socio-economic integration
Promoting and supporting the implementation of socio-cultural and awareness-raising activities on migration matters

"Migrant relay" will benefit from:
- Training on migrant rights (residence, health, work, education, ...) with a focus on women's rights (sexual and reproductive health, discrimination and gender-based violence, ...). The language of the training is French for Tunis, Sousse and Sfax, and English for Medenine.
- Exchange and follow-up meetings
- Support to implement socio-cultural and awareness-raising activities
Criteria:
The call is mainly for migrant women:
Being of foreign nationality (asylum seeker, refugee, stateless person, student, worker, entrepreneur, unemployed, member of an association or collective, ...)
Living in Grand Tunis, Sousse, Sfax or Medenine
Being well integrated into his/her community at the local level, having a good knowledge of the challenges the community is facing
Fluent in French in the region of Tunis, Sousse and Sfax
Fluent in English in the region of Medenine
Strongly committed to contribute improving the living conditions of migrant communities
To apply in Medenine, please fill in the form in English:
https://forms.gle/BFpdjbiA3PTMSN7j6
Deadline: 14/08/2022